Kitchen and Bathroom Installation
Kitchen and Bathroom Installation - North Wales
Do you have a bathroom or kitchen installation and fitting project coming up that you only feel comfortable entrusting to the most experienced professionals?
As licensed kitchen and bathroom fitters in North Wales, we have been handling everything from the simplest of plumbing and repairs to the largest and complex bathroom and kitchen renovation projects.  
With many years of experience under our belt as kitchen and bathroom fitters, we are pioneers throughout the areas of North Wales and North West England.
Whether you're an individual homeowner or a property developer, we are experts in wet room fitting, kitchen and bathroom fitting services. Our team is comprised of professional and licensed joiners, plumbers, electricians, tilers, decorators and designers.
We can assist you in transforming your kitchen and bathroom into the one you've always wanted. Whether you require a brand new installation or a refurbishment, we've got the right tools and the right products to give you something more than mere fitting services.
As experienced fitters, we've designed and fitted bathrooms and kitchens in a host of properties ranging from studio flats to country homes and commercial properties. Our real focus is on customer satisfaction and we are always looking to give you the best price and quality.
The moment you choose us to fit your kitchen or bathroom we will be with you from the initial quote and advice to planning and finishing.
Whether you require a traditional kitchen and bathroom or luxurious bespoke projects, we are fully able to engage projects of any scope,
All our work is guarantee protected.
Our suppliers warehouses are fully equipped with major brands of kitchen and bathroom products. We're not tied to one brand, so we can undertake any custom jobs to suit your space and needs. We are always compliant with professional standards and that's why we can do any style from traditional bathroom with bath to a modern walk-in shower and bespoke and traditional style kitchens.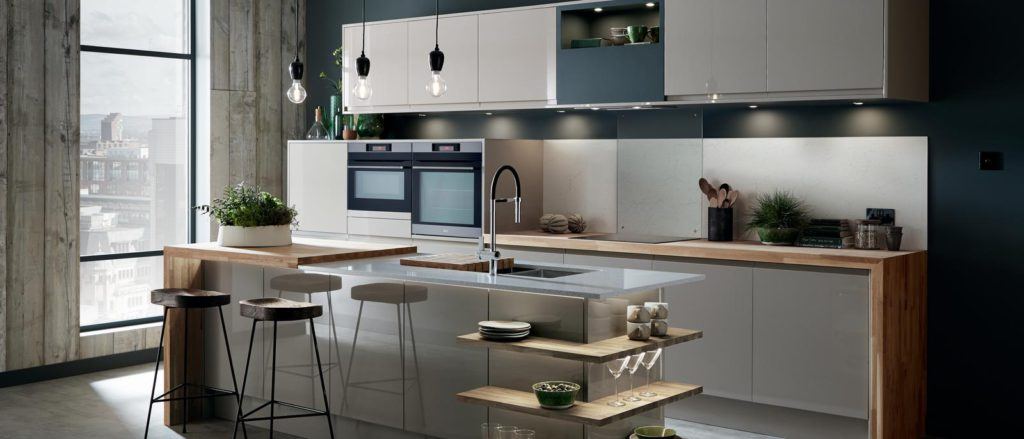 Kitchen Fitters:
Your kitchen is the centre of your family's day-to-day living. It's the heart of your home where you, your family, and your guests gather to socialise, eat and cook together. It's a bonding area which must be well-maintained and up-to-date no matter what size and shape. 
Our trained and certified kitchen fitters have hands-on experience in installing and fitting kitchens either in private homes or in offices or commercial buildings. They are fully aware of each step in the process of kitchen fitting. We offer complete kitchen fitting services including dismantling and getting rid of the old units, worktops and sink. We have qualified and registered tradesmen who are trained to handle all ranges of gas appliances, electrics, and plumbing.
From modern to contemporary or more traditional country kitchens, we can help. With our trusted relationship with local kitchen suppliers, we can offer our clients excellent value on a wide range of high-quality fixtures, fittings, and appliances.
We guarantee an aesthetically pleasing and fully functional kitchen that will draw you, your family, and guests into the very heart of your home.
We'll keep you up to date on every step of our way towards revamping your kitchen entirely. We'll proceed through a plan and ways to help you envision the kitchen you want from us. We'll never throw our decisions at you rather we'll offer our opinion and recommendations about what to have installed.
Keeping in view your requirements and your taste we'll design your kitchen before ordering the fixtures and all relevant equipment. We offer all the styles including laminate or ceramic and we'll help you to choose the best flooring and tiling for your kitchen.  
We promise to set up all the electrics of your kitchen in a safe and up to date manner. We undertake all electric works starting from a simple socket replacement to a complete re-wire, we can help you in getting the most out of your electric appliances.  
We can also help you in getting the perfect brilliance in your kitchen with a diverse collection of ceiling lights, LED lights, under-cabinet lights, plinth, and display lights. 
Bathroom Fitters:
How well a bathroom is put together aesthetically can play a major role in setting the tone for the rest of your home. A bathroom is not only a place to wash away the worries of the day but is also a place to relax with a shower or bath. 
A well-maintained, fully functional and beautiful room is beneficial for you and visitors coming to your home.
As rightly said that a kitchen and bathroom sell a house, so if you're looking to get the most from your home, in terms of value, invest in your bathroom. Most people don't want to buy a house with a kitchen or bathroom that needs to be worked on.  Besides your intent of selling your home, you should enjoy the space while you're living there.
With our extensive experience in bathroom fittings and fixtures, we can ensure to add fixtures and features that will make your bathroom comfortable for your lifestyle. Whether you require fixing built-in cabinets, Jacuzzi and spa baths, from concealed cisterns and worktops to light fixtures and even finishing touches. We've a full range of bathroom fitting services. 
Discover What We Offer:
Keeping in view the importance of bathroom and kitchen in overall livability and functionality in a home, we're offering specialised services like:
Tiling work
Joinery Work
Decking
Fencing
Plastering
Plumbing
Electrical Work
Decorating & Finishing
Appliances Installation
So if you're looking for reliable, hard-working, and professional kitchen and bathroom fitters and installation services in North Wales then look no further as you just found them.
We take pride in having the number of satisfied customers and returning buyers. We can assure you that once you hit the "hire us" button the result and satisfaction you get from our kitchen and bathroom fitting services will exceed your expectations.
For all
enquiries please email or call us:
info@northwalesrefurbishments.com

Tel: (01745) 337296

Mobile: 07867982665